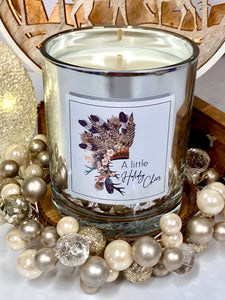 A Little Holiday Cheer - Festive Plum Cider
Regular price $15.00 Sale
𝓐 𝓛𝓲𝓽𝓽𝓵𝓮 𝓒𝓱𝓻𝓲𝓼𝓽𝓶𝓪𝓼 𝓒𝓱𝓮𝓮𝓻............ Deck the Halls with Mulled Plum Cider falalalalalala! A cheeky festive fragrance to make your space feel relaxed, inviting, festive & in the moody to celebrate! 
Fragrance Notes: Warm Spices, Cinnamon & Clove with a lingering Mulled Plumb Cider, Hypnotic, fun & perfect for getting in the festive spirit!

Superior Cocosoy wax combined with a plant based additive (vegan friendly) with lead free cotton wick, hand poured in the Southern Wheatbelt Region, WA. Encased in a stunning Polished Bright Silver Glass Tumbler with Inner Mirror Finish.
300 grams | Approx Burn Time: 45 hours