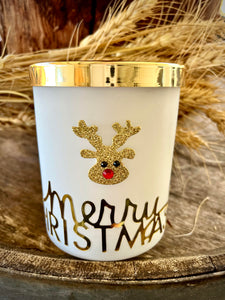 Gold Club Reindeer Candle - White Christmas
Regular price $19.00 Sale
Exclusive to D&D - You wont find these stunning glitter & pearl Reindeer Candles anywhere else but here!
Pearl white outer jar, mirrored gold inner finish with a polished gold lid, glitter reindeer embellishment with mirror gold "Merry Christmas", all handcrafted by Diamonds & Dust.
Fragrance: White Christmas is an incredible trip down snowy mountains, with fresh Fir Balsam, Frosted Ozone, Bergamot, Oak Moss, Evergreen, A truely unique fragrance that you will be hard pressed to find elsewhere.
Our scented candles contain the highest grade premium Cocosoy Wax with a natural plant based additive & lead free cotton wicks. Vegan Friendly.
225 grams | Approx Burn Time: 40 hr