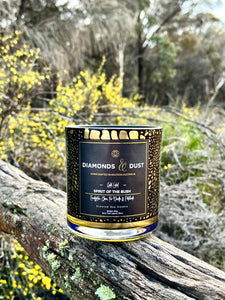 Outback Special Edition "Spirit of the Bush" Gold Label Candle
Regular price $44.95 Sale
Possibly our most eye catching bespoke vessel to date, the Special Edition "Spirit of the Bush" Gold Label Candle captures the essence of outback Australia featuring its stunning onxy black & mirrored gold Crocodile print adorned with a lustrous gold foil detailed label.
As a homage to the Aussie Spirit, we bring you "Spirit of the Bush", a quintessential Australian fragrance that has been a loved favorite in the past. The fragrance oozes a beautiful refreshing palate of native Christmas bush, essential Australian flora, clove leaf, fresh fir needle teamed lightly with musk & sweet jasmine.
A premium Cocosoy Wax with plant based additive (Vegan friendly), lead free cotton wick, meticulously hand poured on our property into this stunning Special Edition Vessel.  A beautiful feature to enjoy in your home or outdoors with family & friends. 

400 gram | Approx Burn Time: 60 hours | Gift Boxed