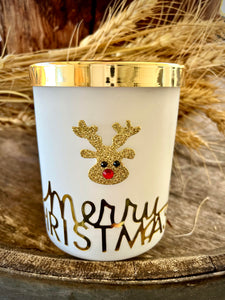 Gold Club Reindeer Candle - Frosted Cranberry
Regular price $19.00 Sale
Exclusive to D&D - You wont find these stunning glitter & pearl Reindeer Candles anywhere else but here!
Pearl white outer jar, mirrored gold inner finish with a polished gold lid, glitter reindeer embellishment with mirror gold "Merry Christmas", all handcrafted by Diamonds & Dust.
Introducing "Frosted Cranberry," a captivating candle fragrance that transports you to a winter wonderland of pure indulgence. Let this enchanting aroma fill your space, its sweet but very fresh bringing the essence of snowy landscapes and holiday treats, evoking joy and warmth in every flicker.
Fragrance Notes: Black Raspberry, Juicy Peach, Lemon Rind, White Cranberry, Huckleberry, Wild Strawberry, Vanilla Pods, Sugar Cane
Our scented candles contain the highest grade premium Cocosoy Wax with a natural plant based additive & lead free cotton wicks. Vegan Friendly.
225 grams | Approx Burn Time: 40 hr