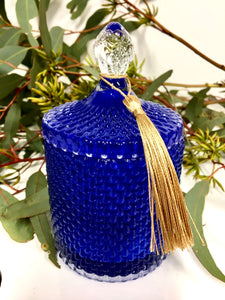 A Little Luxe | Indigo Blue | Blackberry Lavender
Regular price $29.00 $20.00 Sale
|| A Little Luxe | Indigo Blue | Blackberry Lavender ||

These gorgeous lidded vessels are simply beautiful. Featuring a 3D glass Tear Drop lid with Antique Gold Tassel & nurl cut surface around the vessel. Once you have enjoyed your candle, simply wash the jar out with warm water, wipe residue of wax away & reuse as a beautiful décor item around your home.
Fragrance Notes: This fragrance has it all, Its fruity but not over the top with the initial hit of juicy Blackberry while balancing the stunning aroma of French Lavender. It has the humbling warmth of Amber & prized perfumery of spicy Bergamot.
Our scented candles contain the highest grade premium Cocosoy Wax with a natural plant based additive & lead free cotton wicks. Vegan Friendly.
200 grams | Approx Burn Time: 40 hrs