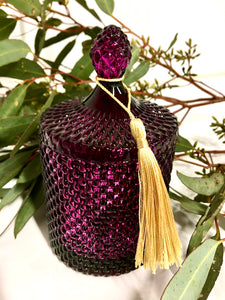 A Little Luxe | Metallic Purple | Musk Sticks
Regular price $29.00 $20.00 Sale
|| A Little Luxe | Metallic Purple || Musk Sticks

These gorgeous lidded vessels are simply beautiful. Featuring a 3D glass Tear Drop lid with Gold Tassel & nurl cut surface around the vessel. Once you have enjoyed your candle, simply wash the jar out with warm water, wipe residue of wax away & re use as a beautiful décor item around your home. 
Fragrance Notes: Think childhood memories, walking down to the corner store getting a bag of mixed lollies with those favourite little pink musk sticks. This fragrance is absolutely gorgeous! Patchouli, Geranium, Cinnamon & Vanilla.
Our scented candles contain the highest grade premium Cocosoy Wax with a natural plant based additive & lead free cotton wicks. Vegan Friendly.
200 grams | Approx Burn Time: 40hrs