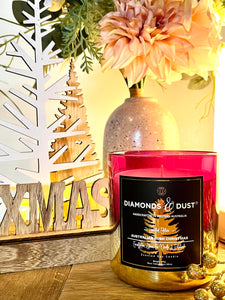 Australian Bush Christmas | 2022 Limited Edition Ombre Gold & Cherry Candle
Regular price $49.95 $34.95 Sale
"𝑨𝒖𝒔𝒕𝒓𝒂𝒍𝒊𝒂𝒏 𝑩𝒖𝒔𝒉 𝑪𝒉𝒓𝒊𝒔𝒕𝒎𝒂𝒔" 𝑪𝒐𝒍𝒐𝒖𝒓𝒔 𝒐𝒇 𝑪𝒉𝒓𝒊𝒔𝒕𝒎𝒂𝒔 𝑪𝒐𝒍𝒍𝒆𝒄𝒕𝒊𝒐𝒏
This stunning Candle will add an eye catching modern bespoke feature in your festive décor this year or a make a beautiful gift to give . A beautiful Collection celebrating the Colours of Christmas, exquisitely detailed & finished with luxe festive labelling featuring our foiled Christmas Tree embellishment.
Australian Bush Christmas is a quintessential Australian festive fragrance that has been a loved favourite in the past. The fragrance oozes a beautiful refreshing palate of native Christmas bush, essential Australian flora, clove leaf, fresh fir needle, leafy green teamed lightly with musk & sweet jasmine. A stunning feature piece to enjoy in your home or outdoors with family & friends.
A premium Cocosoy Wax with plant based additive (Vegan friendly) with lead free cotton wick, meticulously hand poured on our property.
400 gram | Approx Burn Time: 70 hours | Box packaged