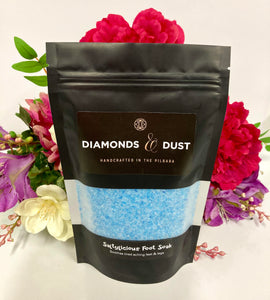 Saltylicious Footsoak | Awaken
Regular price $19.00 Sale
Pamper tired, sore feet with an invigorating Saltylicious Foot Soak❤️
Our Awaken Saltylicious Footsoak defiantly awakens the soul. An uplifting fsoak with Peppermint Essential Oil, Spearmint & creamy Vanilla.
Loaded with Epsom Salts, Coconut Oil & Witch Hazel in your favorite Diamonds & Dust fragrances, a foot soak can help reduce inflammation, stress, detoxify and improve sleep. Saltylicious will leave your feet cool, soft & deodorized fresh as a daisy.
Simply fill a bucket with cool water, enough to cover your ankles - pour in desired amount (up to 3 applications per bag), pop feet in, grab a book, relax & soak for minimum 20 minutes.
(300 gram Ziplock Bag | Soak Colours may vary)