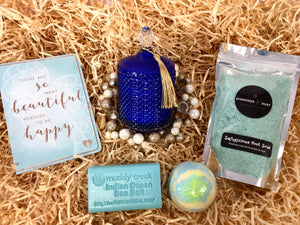 Beautiful Little Reasons | Gift Box
Regular price $69.00 Sale
Indulge someone special with our "Beautiful Little Reasons" Gift Box.
This Gift Box includes;
Diamonds & Dust Little Luxe "Blackberry Lavender" 200gr Indigo Blue Hand poured Candle (WA Made)
Diamonds & Dust "Island Paradise" Bathbomb, handcrafted & packed with Epsom Salts & Coconut Oil for truly indulgent relaxation (WA Made)
Diamonds & Dust 300gr Saltylicious "Revitalize" Grapefruit Lime Mango Epsom Salt & Coconut Oil Footsoak (3 applications per bag + WA Made)
Muddy Creek "Indian Ocean Sea Salt" 200gr Pure Natural Soap (WA Made)
"There are so many beautiful reasons to be Happy" inspirational gold embossed print Notebook (sourced locally)
Packed in re-useable Gift Box with hand tied satin ribbon
We love supporting local WA & Australian Made products. Your purchase of this Collective Gift Box is helping to support 6 Australian Small Business's - Thankyou xx
.
$14.95 Flat Rate Tracked Shipping & Handling within Australia