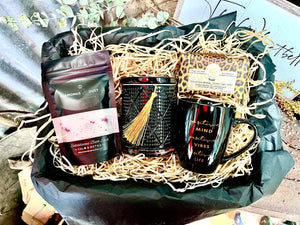 Black Diamond "Positivity" Pamper Pack | Turkish Mocha
Regular price $69.95 Sale
Diamonds & Dust 320gr Black Diamond Handpoured Candle (WA Made) in the humbling Turkish Mocha fragrance of warm fresh brewed coffee, star annise, vanilla bean & brown sugar. These exquisite lidded jars can be re-used when the candle has reached its life, either around the home or perfect as a little trinket jar. Includes luxe tassel in antique gold colour.
Diamonds & Dust "Saltdelicious" 250gr full size Bath Soak, A devine soak loaded with Epsom Salts to soothe tired achy muscles, draw impurities from the body &  boosts magnesium levels. Hand blended with Kaolin Clay which deep cleanses, exfoliates, soothes irritations & leaves your skin ohhh so soft. Infused with a the incredibly divine fragrance's of calming Lavender, Rose Geranium & Ylang Ylang Essential Oils with a sprinkle of delicate rose buds & petals. 
Black & Rose Gold "Positive Vibes" Tea/Coffee Mug.
Wavertree & London "Noir" Triple Milled Luxe Wrapped Natural Plant Oil with Shea Butter 200gr Soap (Made in Australia)