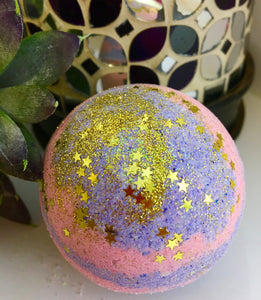 Comfort | Shimmer Bathbomb
Regular price $13.00 $8.00 Sale
Our Luxe Shimmer Bathbombs are sooooo popular so we brought them back due to demand!
Handmade & loaded with Epsom Salt, Kaolin Clay plus Coconut Oil goodness to leave your skin feeling super hydrated, silky soft & smelling amazing. Food grade colours & water soluble fine shimmer used (stars on "Comfort" not soluble).
Our "Comfort" (Black Raspberry Vanilla) is absolutely divine! Light musk and decadent vanilla provide a base for the mid notes of white floral and the heavenly blackberry and raspberry. Its just like a beautiful warm hug!
Gift Boxed (Bathbomb Colours may change per batch production)