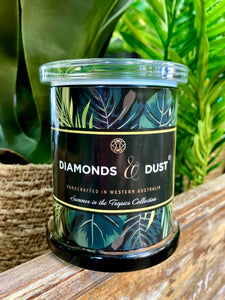 Beach Party
Regular price $17.00 $12.00 Sale
Our "𝑺𝒖𝒎𝒎𝒆𝒓 𝒊𝒏 𝒕𝒉𝒆 𝑻𝒓𝒐𝒑𝒊𝒄𝒔" Collection Candles are the perfect addition to add a summer vibe to your home, an ideal gift for someone who loves the tropics or just spoil yourself with a little holiday inspired relaxation.
Beach Party is a sultry blend of Cherry, Mandarin, Peach Schnapps, Rockmelon & Musk. Naughty summer nights with a cocktail in hand, spent at a beach party, there's no sex in the city here, its all sex on the beach!
165gram gloss black lidded tumbler adorned with our uniquely tropical label.
All our candles are handpoured in small batches using the highest grade CocoSoy wax with lead free cotton wicks.
Please note this collection is not boxed, instead its carefully hand wrapped in black tissue paper.