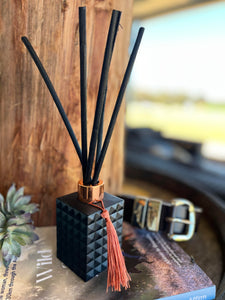 Signature Scented Reed Diffuser - Rustic Vineyard (Back Soon)
Regular price $29.95 Sale
Your favorite Diamonds & Dust bespoke fragrance's from our Signature Candle Collection are now available in a beautiful Matte Black Diamond Stud Scented Reed Diffuser to match with Copper colored luxe tassel.
Turn your home into a therapeutic retreat 24/7 without the worry of a burning flame. Our long lasting fragrance reed diffusers will revitalize any space where its placed by simply placing the natural fiber reed sticks in the bottle, after 1 hour turn the sticks then leave. Turn weekly for a fresh burst of fragrance or whenever you desire a fragrance release.
Long lasting up to 6 months depending on air conditions, flame free, low fuss alternative to candles.
Presented for gifting in a Black Organza Bag.
Proudly Australian Made
150ml