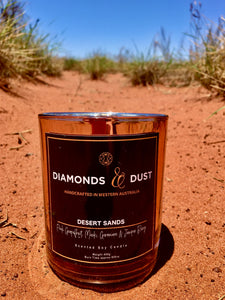 Desert Sands
Regular price $39.95 $39.95 Sale
Vast parched plains of rich earthy deep reds of Desert Sands as if they were on fire with the mirage in the far distance from heat beating down from the sun in the distance, dust devils swirl up into the air from hot winds yet after rains the flat plains come alive with vibrant fresh green spinifex & the sweetness of bush fruits blooming in the warm sun. 

Fragrance Notes: Pink Grapefruit, Musk, Geranium & Juniper Berry.

Superior Cocosoy wax combined with a plant based additive (vegan friendly) with a lead free cotton wick. Handpoured in the Southern Wheatbelt Region, WA. Encased in a stunning Rose Gold Copper Glass Tumbler with Inner Mirror Finish, Gift Boxed.
350 grams | Approx Burn Time: 50 hours