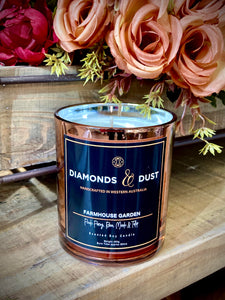 Farmhouse Garden
Regular price $39.95 $29.95 Sale
A Farmhouse just wouldn't be a Farmhouse without its famous floral gardens. You will always find a beautiful display of florals as you stroll through a country Farmhouse Garden during winter & spring, especially a stunning showing of Roses, beautiful bulbs & cottage flowers.
Fragrance Notes: Pink Peony, Rose, Musk & Tulip. A gorgeous, fresh floral fragrance without being overpowering.
Superior Cocosoy wax combined with a plant based additive (vegan friendly) with a lead free cotton wick. Handpoured in the Southern Wheatbelt Region, WA. Encased in a stunning Rose Gold Copper Glass Tumbler with inner Mirror Finish.
350 grams | Approx Burn Time: 60 hours | Gift Boxed