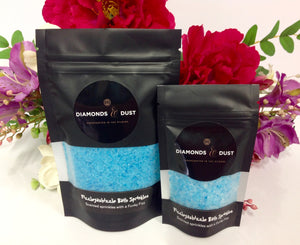 Fizzleyashizzle Bath Sprinkles 200gr | Ocean
Regular price $16.00 $10.00 Sale
Don't have time to wait for the Bathbomb to do its thing?
Our Fizzleyashizzle Bath Sprinkles are like a Bathbomb in a bag with instant fragrance & fizz. Blended with Epsom salt, coconut oil & kaolin clay to draw out toxins, remove impurities, nourish the skin & melt away tension.
Ocean Fragrance: Wild Freesia, Fresh Lime & Calming Lavender. A beautiful, refreshing fragrance to leave you feeling with that cleansed ocean feeling like you've just strolled along a beach.
200 gram bag with up to 3 bath applications by using as much or as little as you like. Colour may vary.