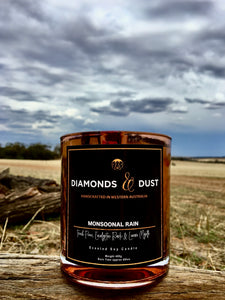 Monsoonal Rain
Regular price $39.95 $39.95 Sale
If you have ever lived in the north of Australia or been there during the Wet Season you will know the vibe of electricity in the air when the heavy clouds come rolling in on a hot summers day. The still air is finally broken by the crack of a monsoonal thunderstorm and a good drenching onto earthy soil from that wet stuff sent from above. There is nothing like breathing in the fresh airy aroma of rain after a cleansing summers downpour and the calm in can bring to the soul.
Fragrance Notes: Fresh Pine, Eucalyptus Bark & Lemon Myrtle. Monsoonal Rain isn't a strong overpowering fragrance, its very light, airy & refreshing...….just like summer rain.
Superior Cocosoy Wax with plant based additive (vegan friendly) lead free cotton wick, handpoured in the Southern Wheatbelt Region WA. Encased in a stunning Rose Gold Copper Glass Tumbler with Inner Mirror Finish.
350grams | Approx Burn Time: 60 hours |Gift Boxed