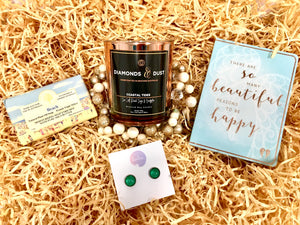 Ocean Escape | Gift Box
Regular price $79.00 Sale
Craving an Ocean Escape? This gift box featuring our "Coastal Tides" Candle from the Signature Collection will evoke your coastal vibes. Endless turquoise waters, sand between the toes, a warm summer breeze & the smell of salty air.
This Gift Box includes;
Diamonds & Dust "Coastal Tides" 350gr Rose Gold Signature Candle (WA Made)
Harlow Creations "Mermaid" Handmade Stud Earrings (WA Made)
Wavertree & London "Beach" Triple Milled Luxe Wrapped Natural Plant Oil with Shea Butter 200gr Soap (Made in Australia)
"There are so many beautiful reasons to be Happy" inspirational gold foil print Notebook (sourced locally)
Packed in re-useable gold Gift Box with hand tied black satin ribbon
We love supporting local WA & Australian Made products. Your purchase of this Collective Gift Box is helping to support 6 Australian Small Business's - Thankyou xx
.
$14.95 Flat Rate Tracked Shipping & Handling within Australia