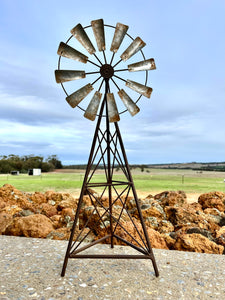 Rustic Outback Windmill
Regular price $54.95 Sale
An iconic piece of the Australian landscape - The Windmill 
Helping Australians access water for over a century
The first windmills (or windpumps), designed to produce water from aquifers deep below the ground were produced by early Australian entrepreneurs, The Griffiths Brothers, The branding of "Southern Cross Windmills" was first used in 1903, and the brand has gone on to become a recognisable landmark of rural Australia still used today.
When driving around rural Australia, whether for work, travel or a road trip, if you drive far enough you'll undoubtedly spot a Windmill pumping water on a farm or outback station, ensuring they can make it through the long dry summers.
This rustic piece stands at 55cm & will make a great display in your home.