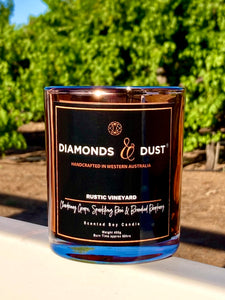 Rustic Vineyard
Regular price $39.95 $39.95 Sale
Wander thru a picturesque, lush green vineyard in the summer sun taking in the aroma of sun drenched grapes perched up on a gently sloping hill in the great southern. Fresh & fruity Chardonnay aromas with clean airiness of balsam make up an vibrant bouquet.
Fragrance Notes: Chardonnay Grape , Sparkling Rose' & Brandied Raspberry.

Superior Cocosoy Wax combined with a plant based additive (vegan friendly) with lead free cotton wick. Handpoured in the Southern Wheatbelt Region, WA. Encased in a stunning Rose Gold Copper Glass Tumbler with inner Mirror Finish.
350 grams | Approx Burn Time: 60 hours | Gift Boxed