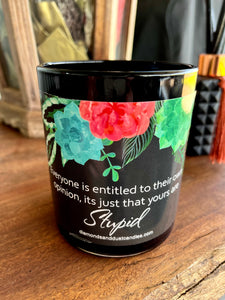 Sass Collection | Everyone is entitled to their own Opinion, its just that yours are stupid!
Regular price $26.95 $22.00 Sale
𝑬𝒗𝒆𝒓𝒚𝒐𝒏𝒆 𝒊𝒔 𝒆𝒏𝒕𝒊𝒕𝒍𝒆𝒅 𝒕𝒐 𝒕𝒉𝒆𝒊𝒓 𝒐𝒘𝒏 𝑶𝒑𝒊𝒏𝒊𝒐𝒏, 𝒊𝒕𝒔 𝒋𝒖𝒔𝒕 𝒕𝒉𝒂𝒕 𝒚𝒐𝒖𝒓𝒔 𝒂𝒓𝒆 𝒔𝒕𝒖𝒑𝒊𝒅!
Our Sass Collection Candles are the perfect pick me up gift for those with a sense of humor, a brilliant "secret santa" gift for the office, friend or family member, or just to remind yourself to take life with a pinch of salt!
In our opinion this candle smell's amazing! Based on the incredible CK One Fragrance by (Calvin Klein Type), its airy, aquatic, light & fresh with notes of Papaya, Pineapple & Sweet Jasmine, White Musk & a touch of Amber.
300gram gloss black tumbler with our Aztec Sass label presented in an organza gift bag. 
All our candles are handpoured in small batches using the highest grade CocoSoy wax with lead free cotton wicks.
Approx Burn Time: 40hrs