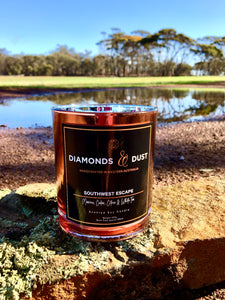 Southwest Escape
Regular price $39.95 $39.95 Sale
Waves crashing on the beach with fresh salty sea air on your skin, a wonderland of forest walks amongst tall trees with winter moss & deep muddy puddles, picturesque vineyards in rich, rain drenched soil where you can sample world renowned wine's & juicy citrus fruit trees ripe for picking. Where's your favourite winter Southwest Escape?

Fragrance Notes: Marine, Cedar, Citrus & White Tea.  A lovely fresh fragrance with pops of salty ocean air.
Superior Cocosoy Wax combined with a plant based additive (vegan friendly) with lead free cotton wick. Handpoured in the Southern Wheatbelt Region, WA. Encased in a stunning Rose Gold Copper Glass Tumbler with inner Mirror Finish.
350 grams | Approx Burn Time: 60 hours | Gift Boxed