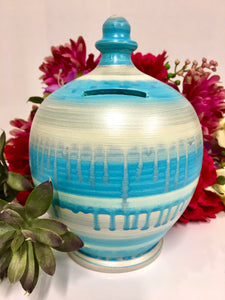 Terramundi Pot - Coral Bay
Regular price $59.00 Sale
These "slick" paint style Pots have always been a favourite style. Painted using an artisan technique to ensure there is not one the same as another.
-
The Original Terramundi Pot
Our Etruscan money pots are hand thrown on a wheel by a small family run pottery in Italy, where they have been used for over 2000 years with their original design remaining unchanged, examples can be viewed in the British Museum.
- - - - - - - - - - - - - - - - - - - - 
Terramundi takes your humble pot to their artisan team that hand paint to create beautiful unique designs, making them a beautiful original gift. 
 - - - - - - - - - - - - - - - - - - - - 
The pots can hold over $1000 gold $1 coins & come with a lucky coin already inside.
The luck is in cracking them open once full. You can simply smash them, but the best way to break your money pot is to get a chisel or the back of a hammer and place it inside the money slot, slowly lever the top and you should be able to pop the top off. You can now keep your pot to utilise as a utensils holder, hold pens or make a gorgeous plant pot to house your favourite plant.