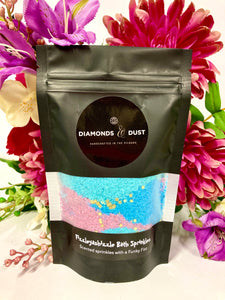 Unicorn Starz Bath Sprinkles 200gr| Marshmallow
Regular price $16.00 $10.00 Sale
Make bathtime a little more fun for the littlest people in your life............or big kids!
The funky teal, purple & blue colour & fizz will have the toughest bath takers wanting to jump right in!
Our Fizzleyashizzle Unicorn Starz Bath Sprinkles are like a Bathbomb in a bag with instant fragrance & fizz. Blended with Epsom salt, coconut oil & kaolin clay to draw out toxins, remove impurities, nourish the skin & melt away tension. Funky food grade colours for extra fun with floating gold starz.
200 gram bag with up to 3 Bath Fizz fun using as little or as much as you desire.
Marshmallow fragrance is a calming, soft, warming fragrance, not too sweet or strong, perfect for kids to drift them of into slumberland before bed.  Colour may vary.